Concrete Moisture Testing
Moisture Testing: Protecting Your Floors, Preserving Your Investment
Moisture poses a significant threat to the appearance and longevity of floor coverings. At Smithson Solutions, we specialize in delivering precise and comprehensive moisture testing services that provide our clients with peace of mind and safeguard their investments. Our expert analysis and testing of existing concrete slabs enable us to determine moisture levels, core temperatures, surface pH levels, and identify potential surface contaminants.
Accurate and Comprehensive Testing
At Smithson Solutions, we are dedicated to upholding the highest standards in moisture testing. We are equipped and trained to perform In-situ/RH probe and surface moisture tests in full accordance with the rigorous ASTM standards. Our focus on precision and compliance ensures that our moisture testing services deliver reliable results for your commercial flooring projects.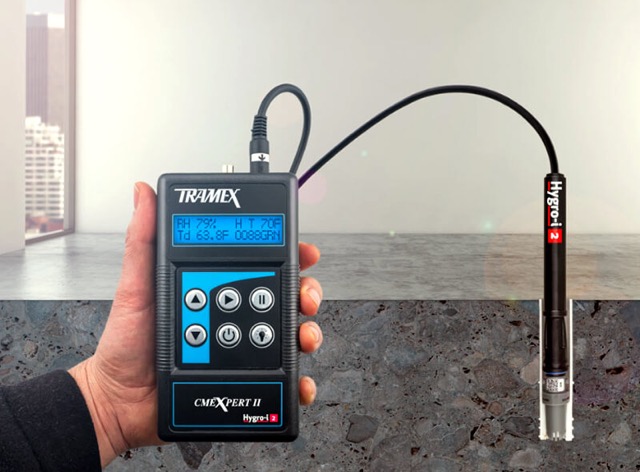 Complexity of Moisture Evaluation
Evaluating moisture in concrete is a complex process influenced by various factors. At Smithson Solutions, we understand the intricacies involved, and our experienced team is here to guide you through the process. We welcome discussions about your specific needs and tailor our services accordingly.
Why Choose Smithson Solutions?
Unparalleled Expertise: With years of experience in the industry, our team of professionals has honed their skills in moisture testing. We stay up-to-date with the latest technologies and adhere to industry best practices to deliver accurate and reliable results.
Comprehensive Reporting: Our commitment to quality extends beyond the testing process. We provide detailed reports that include essential data and recommendations, enabling you to make informed decisions about your flooring installations.
Client-Focused Approach: We prioritize clear communication and understanding of our clients' needs. Our team works closely with you to ensure that our moisture testing services align with your project goals and timelines.
Preserve Your Investment with Smithson Solutions
Protecting your floors and preserving your investment is our top priority. With Smithson Solutions, you can trust that our moisture testing services will provide the critical information you need to make informed decisions. Contact us today to discuss your moisture testing requirements. Whether you're located in NY, NJ, CT, or PA, we are here to deliver exceptional service tailored to your specific needs.
Wednesday
7:00am - 5:00pm
Wednesday
7:00am - 5:00pm
2474 Route 302
Middletown, NY 10941